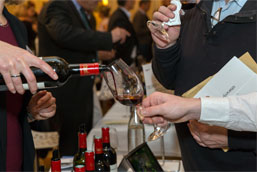 This is a unique opportunity to explore a selection of forty Bordeaux estates that rekindle the taste of wine. Before the market wakes up and turns a particular wine or vintage into a star overnight, come and form your own opinions of these wines in three vintages, including the outstanding 2016 en primeur.
Book now
This Grand Tasting follows a pre-set itinerary, which makes it easier to understand and compare wines within the complex Bordeaux offering. The "Grande Dégustation" pass entitles you to uncover, explore and taste three vintages (2012, 2014 and 2016 en primeur) of all the estates exhibited.
Our partnership with Riedel, the official supplier of glasses for this event, will enhance connoisseurs' assessment of each wine.
IMPORTANT!
All meals during the whole day can be taken in the different Beau-Rivage Palace restaurants.