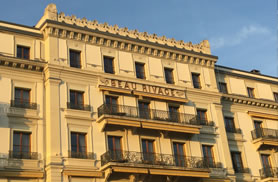 Come and experience something new and rewarding at the third Rencontres Jean-Marc Quarin in Switzerland!

On Friday 25th May 2018, we will exhibit around forty Bordeaux wines that are already classified or Outsiders, which blur the lines. These wines deserve the attention of connoisseurs for all the hard work invested in them and the result, while the market still has not recognised their worth.
The day also includes two brilliant tasting workshops:
– The first is a vertical of thirteen vintages of Château Mouton Rothschild, led by Philippe Dhalluin, General Manager of Baron Philippe de Rothschild SA.
– The second is a vertical of Hermitage La Chapelle of the Paul Jaboulet Aîné Estate, presented by Caroline Frey, who owns the property.
The day before, Thursday, May 24, a very refined dinner at the restaurant Terrace Hotel Beau-Rivage Palace will open the festivities.
Exclusive: Château Canon 1985, a Saint-Emilion Premier Grand Cru Classé B, is the evening's guest of honour. An Imperial, equivalent to eight 75-cl bottles of this wine will be served direct from the Château's private cellar.
Jean-Marc Quarin & Fabrice Léger


Inventors of Rencontres Jean-Marc Quarin
and the exhibition Outsiders by the Quarin Guide